Options
Mark as New

Mark as Read

Bookmark

Subscribe
Hey everyone,
We're happy to share that we're expanding Routines in the Google Home app to give you more control of the things you can automate in your home.
With new starters, conditions and actions, you can now easily build and customize home automations that can make your home safer, your life easier, and your day more fun. These features are available to a small set of users today and will continue to roll out over the next few weeks.
With these updates you will be able to create home automations that start when your compatible smart devices do something, when you say something to Google Assistant, when it's a specific time of the day, or at sunrise / sunset . For example, you can create:
A safety Routine called "lock up for the night" (see visuals below) that turns on your camera, locks the front door, and arms your security system every night at 9PM.

An energy-saving Routine that automatically turns off the garage light when no motion is detected in the garage for 15 minutes.*

A convenient Routine to welcome your visitors that turns on the Porch light at 75% brightness and plays a custom message on your smart speakers, whenever someone presses the doorbell.

Or, a fun party time Routine that plays your party playlist whenever you turn on disco lights, or when you say to Google Assistant "Hey Google! It's party time."
Keep reading to learn about the home automations you can create, and all the new capabilities available for your Routines.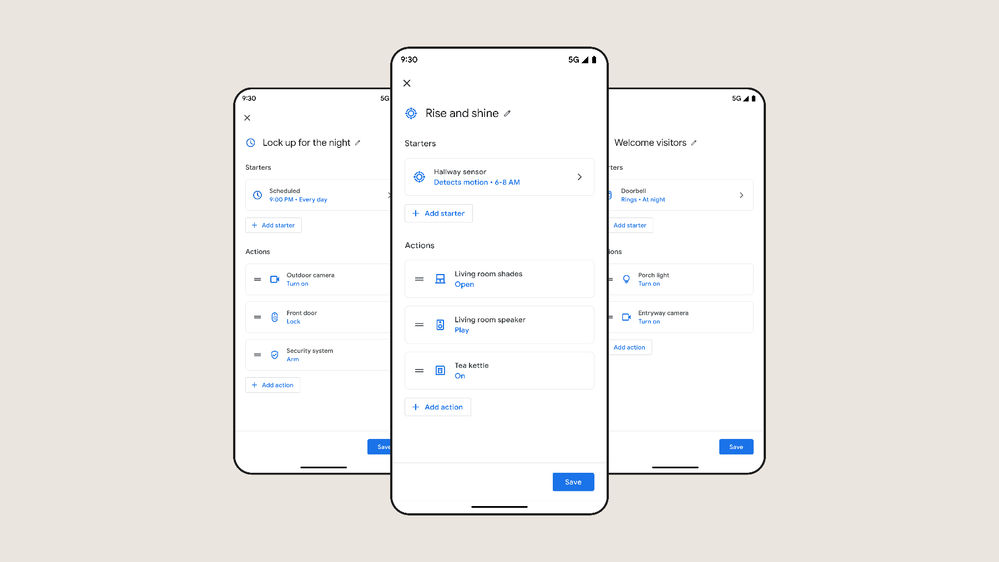 Routines for every member of your home
Google Home already allows you to create Personal Routines, which can only be edited and seen by the creator. With the launch of these new capabilities, now, you can make Household Routines that work for everyone in your home. When you create a Household Routine, any member that you add to your household in the Google Home app can view, edit, run, activate, deactivate or delete it. Additionally, all home members can check when the Routine runs in the History view in the Google Home app.
What's new
Below is a quick snapshot of the capabilities currently available with Household Routines. The current set of features is our first step to help users build powerful automations for their homes. We'll continue to add more devices, starters, conditions and actions so look out for those in the future. We'll also continue to onboard more partners on the automation platform later this year and next.
Starters:

Condition:

Actions:

Voice starter
Time starter
Sun events
Turn On / Off
Motion Sensor*
Thermostat mode
Lock a Smart Lock
Arm your Security System
Start / Stop a Smart Device
Play / Pause / Stop media
Media Volume %
Media Input Selection
Doorbell Press

Time and day condition

Turn On / Off
Camera scheduling
Thermostat mode, thermostat temperature
Lock a Smart Lock
Arm a Security System
Start / Stop a Smart Device
Play media
Media Volume %
Media Input Selection




Starters
You've had the ability to start your Routines with your voice, a tap, or at a certain time of the day in your Google Home app, but now you can start your Household Routines when a compatible smart device changes state or does something. For example: when your motion sensor detects motion, or when someone presses your doorbell, then the porch lights turn on.*
Conditions
We currently support time conditions for all Routines. This allows you to start your Routine at certain times of the day and days of the week. For example, turn on my lights at sunset but only on weekdays (condition).
Actions
With so many potential Routines, here are a few example actions that you can combine with any of the starters and conditions:
Camera scheduling, lock and arm

Example: At 9:00 PM every day, turn the outdoor camera on, lock the front door, and arm the security system.

Play media or adjust the volume

Example: When I say "Hey Google! It's party time"turn up the living room speaker volume to 100% and play my party playlist.

Turn smart devices on/off

Example: When the living room lights turn on during weekends, turn on the Chromecast with Google TV and set the volume to 50%.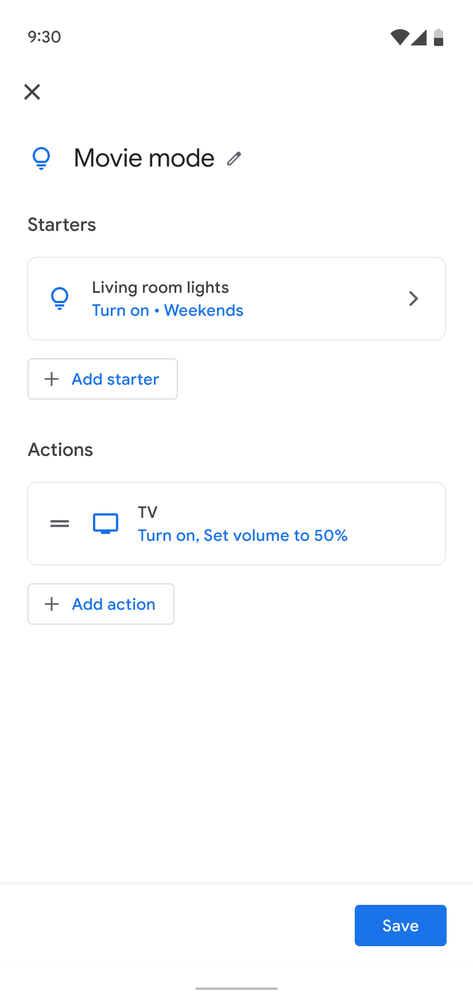 Have advanced automation ideas and want more features?
As we invest into these capabilities of Routines, we understand that many of our advanced users want to create even more powerful and complex home automations. We are building a home automation script editor, which will offer our advanced users even greater customization with 100+ new features and capabilities based on your unique understanding of your home. Keep an eye on the community blog for more updates.
Feeling inspired to create a Routine of your own? We want to see it!
Share your unique Routines in the community's Home Automation forum under the category "Sharing an Automation". Not only can you impress your fellow community members, earn Kudos, and start conversation, but we'll also be on the lookout for our fave automations to feature in future blog posts!
And on that note, be on the lookout for these features rolling out over the next few weeks. Be sure to visit the Home Automation forum and join the discussions about home automations that can make you feel safer, make your day easier, and allow you to have more fun.
See you in the Home Automation forum!
Prafulla Rawal, Product Manager, Google Home
*Currently available with Philips Hue motion sensors. Devices must be added to your Home structure before they can be used in a Routine.
29 Comments
You must be a registered user to add a comment. If you've already registered, sign in. Otherwise, register and sign in.