Options
Mark as New

Mark as Read

Bookmark

Subscribe
Hey Google Nest Community,
You may have heard our recent announcements about the future of the Google Home app, including an announcement that there will be a Public Preview to try new features early, before they become widely available. We are happy to share that we're starting rollout today, and you will soon be able to request an invite to Public Preview in the Google Home app.
We know that many of you in our community are highly invested in the Google Home ecosystem and that any change to the Google Home app is important to you. If that sounds like you, then the Google Home Public Preview is right up your alley. We invite you to explore the redesigned app, test new features and provide early feedback to help make the app even better. And if you are a Nest app user you can learn more about what to expect here.
Note: Public Preview features are early and not complete. They may have issues that can cause the app to behave unexpectedly or not perform as well as the standard app. You can opt out at any time. Leaving the program is as easy as hitting a button in the Public Preview menu, available under Settings. We do not provide the ability to turn off individual features.
Ready to join? In the Google Home app, tap Settings

> under "General", tap Public Preview. Then, tap Request invite. For more details, visit our Help Center.
Request an invite: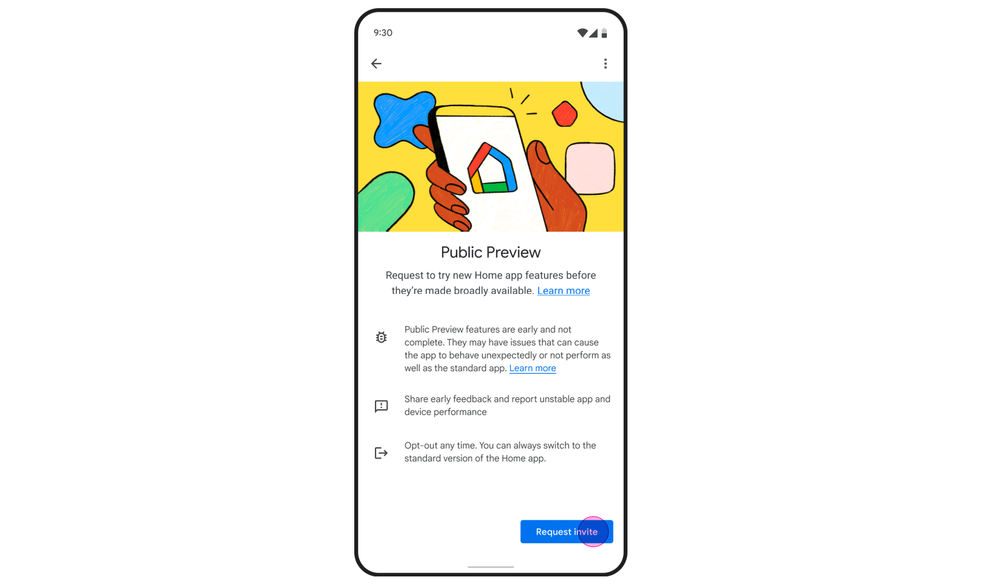 When you join Public Preview, you may not see the updated features right away. You'll begin to see the new features once they're ready for you to use.
Accept and Join: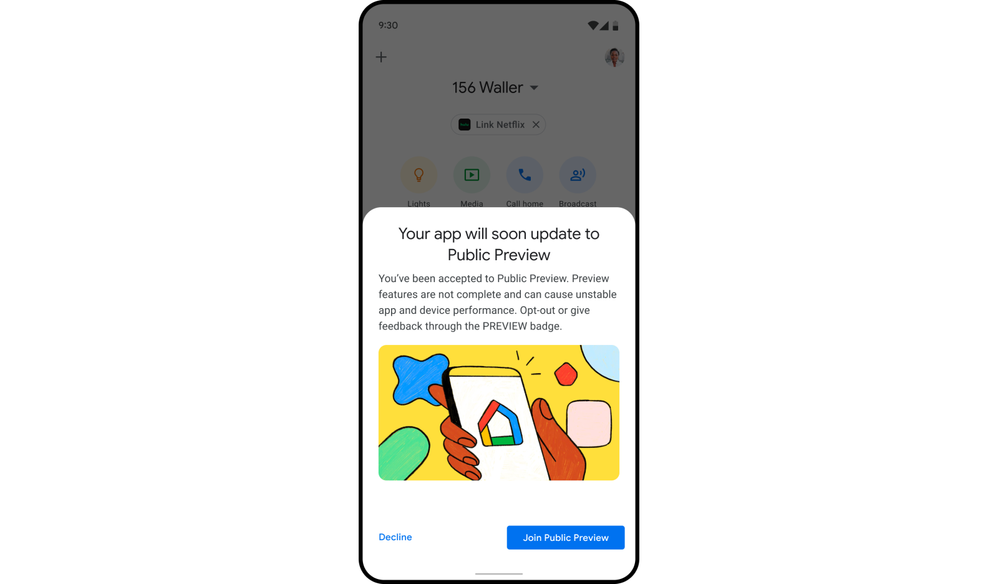 Check out the new features that will be part of the new app experience in Public Preview:


New app design with a five-tab layout

to give you

your home, your way:

Favorites

: Add devices, actions, and automations to this tab for quick access to the most important things in your home. This includes the ability to favorite your compatible cameras so you can view your live streams as soon as you launch the app. At the top of the tab, you will see a new Spaces view that helps you quickly view and control groups of similar devices such as compatible lights, cameras, and thermostats.

Devices:

Easily find all of your compatible devices and check their status.

Automations

: Create and manage all your Household and Personal Routines in one place. With new starters, conditions and actions, you can now easily build and customize home automations that can make your home safer, your life easier, and your day more fun.

Activity

: Review what happened in and around your home.

Settings

: Find and manage settings for all of your devices, services and home members.
Refreshed camera and timeline views

(see which cameras are compatible

here

)

:

Vertical video history timeline

: Quickly scrub through hours of video history or jump to live view.

Event views

: Access a list of events and scrub to an exact moment. You can also see video in landscape mode on your phone or tablet.

Quickly view live video on the home screen:

See video from your Nest Cams and Doorbells all in one convenient place.

Media mini player:

See what's playing in your home with quick access to controls so you can adjust the volume or access the remote.
For more information about Public Preview and how to join, visit our Help Center.
We're excited for you to start trying some of these new features, and we're looking forward to hearing your feedback so we can make improvements moving forward. Once you've requested an invite, let us know what you hope to preview in the comments below!
Anish Kattukaran
Director, Product Management, Google Home & Nest
52 Comments
You must be a registered user to add a comment. If you've already registered, sign in. Otherwise, register and sign in.